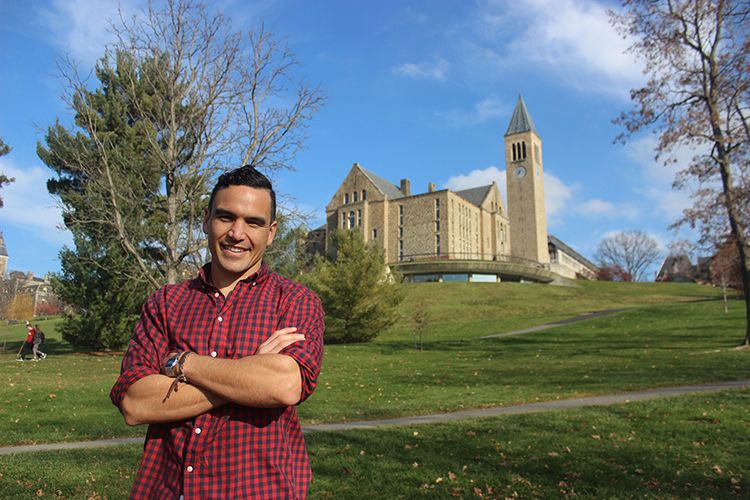 Hautahi Kingi (Nga Rauru, Te Atihaunui a Paparangi) a PhD candidate in economics at Cornell University in the United States is the winner of the 2016 $10,000 Motu Thesis Scholarship.
Mr Kingi has two elements to his research, one around immigration and the other looking into tax and consumption.
"The first part of my dissertation investigates how migrants affect the well-being of native born workers," said Mr Kingi. "Restrictions on labour mobility are arguably the largest policy distortion in the international economy. While goods and capital are now almost completely free to roam, humans are not. Millions would greatly benefit from migration, but labour movements are restricted because of concerns about the potential negative consequences for native born workers. A deeper understanding of these consequences are crucial for developing future migration policy."
"The second part of my PhD work looks at the ways in which the US federal tax system acts as an automatic stabiliser to the economy, and examines how various tax policies and provisions distort this," said Mr Kingi.
Mr Kingi grew up speaking Te Reo and was a Maori Men's Representative for Wellington in Rugby, he also won a gold medal in the 400m at the 2007 NZ Under-20 athletics championships. He still plays rugby for Cornell.
"I've been extremely privileged to be at Cornell for five years and am in the home stretch on my doctoral dissertation," said Mr Kingi. "I hope to take advantage of the many doors that Cornell has opened for me once I graduate, and I'm currently exploring both research and industry opportunities within the US."
"Like indigenous people everywhere, Maori suffer from poorer economic, health and social outcomes than New Zealand non-Maori. Growing up around this inequality opened my eyes to how people's lives are often dictated by economic circumstances beyond their control. My understanding of the importance of economics followed naturally from this experience."
Before heading to Cornell, Mr Kingi completed a BCA in economics and finance with first class honours and a BSc in mathematics and statistics at Victoria University, where he was a mentor at Te Rōpū Āwhina and won the Bernard Edward Murphy Memorial Scholarship for Economics in 2010. During his university career in Wellington he also worked as a consultant and analyst with PricewaterhouseCoopers.
"While at Victoria, I worked alongside other Awhina mentors to improve the lack of practical channels through which young Māori could use their skills to contribute to their iwi. Motu, with this scholarship is attempting to build meaningful, long-term links between researchers and iwi. I'm keen to be a part of this."
Mr Kingi's other awards include the Louis Walinsky Fund in Economics Outstanding Teaching Award (2014); William Georgetti Scholarship (2012 - 2015); Victoria University Graduate Award (2010); Jan Whitwell Prize in Macro and Monetary Economics (2009); Financial Services Institute of Australasia Prize in Corporate Finance (2009); Sir Apirana Ngata Memorial Scholarship (2009); Alumni Association Faculty Award (2007); Victoria University School-Leaver Scholarship for Academic Excellence (2006); PricewaterhouseCoopers Scholarship (2005); and the Maori Education Trust Undergraduate Higher Learning Scholarship (2005).